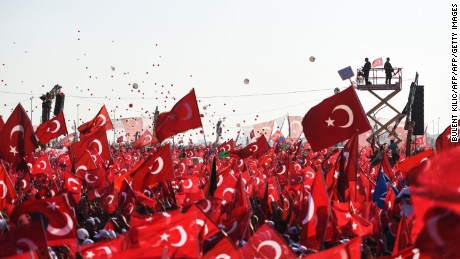 (CNN)Turkey's newspapers this week documented the deep cracks appearing inside the treasury room of Istanbul's Topkapi Palace — one of the country's top tourism destinations and once the home of Ottoman sultans. While older cracks had been covered with concrete, "Hurriyet" reported that parts of this iconic structure risk total collapse as a "result of years of neglect of historical heritage."
These days, I often find myself thinking about similar cracks — political fault lines and social fissures to be more specific — appearing more and more across my motherland, Turkey. And there are many, way too many.
The spirit of national unity that emerged after the coup, unfortunately, did not last long. The secularists feel increasingly confined. Nowhere is this more visible than in the loss of women's rights. When a young woman wearing shorts was
kicked in the face
by a man for not wearing "appropriate attire" on a public bus in Istanbul, many Turkish women felt the same anxiety and repulsion as though it was them who had been directly hit by the thug.
If the old divide of secularism versus religiosity is a persistent crack, "the Kurdish question" constitutes yet another one. It is becoming more and more difficult to write about this subject. Nuances are lost. People are expected to take sides for once and all. Between PKK's hawkish policies and violence and the Turkish ultra-nationalism, Kurdish and Turkish liberals are being sandwiched and intimidated by both sides.
Every writer, journalist or poet in Turkey knows that words are heavy. Because of words we can get into trouble any day. Because of a poem, a novel, an interview, a tweet or a cartoon, we can be called a "backstabber" in pro-government media, lynched in social media, demonized, ostracized, put on trial or even get arrested.
I have friends and colleagues who are in prison as I am writing this piece.
Professor Mehmet Altan
, a prominent intellectual who is being accused of giving subliminal secretly coded pro-coup messages to the public on TV. The wonderful
writer Asli Erdogan
or eminent
linguist Necmiye Alpay
and veteran
journalist Nuriye Akman
were also detained. Another award-winning writer
Murat Ozyasar
, who had become a father only three weeks ago, was arrested at his house while his wife, Sibel Oral, writer and journalist, was breastfeeding their baby girl.
After the terrible coup attempt, Turkey had a golden opportunity to unite around democratic, pluralistic values and cultivate coexistence, peace and harmony. That moment has been squandered. What we are left with today is a climate of intense paranoia and suspicion.
Meanwhile, underneath layers of cement, the cracks get deeper. And the only possible way forward is by urgently repairing and restoring our badly broken democracy.
The opinions expressed here are those of the author.
Read more: www.cnn.com