Stewart Rhodes tells Guardian group will shield an alt-right occurrence set to go ahead Sunday in consequence of doubled carnage despite mayors attempt to block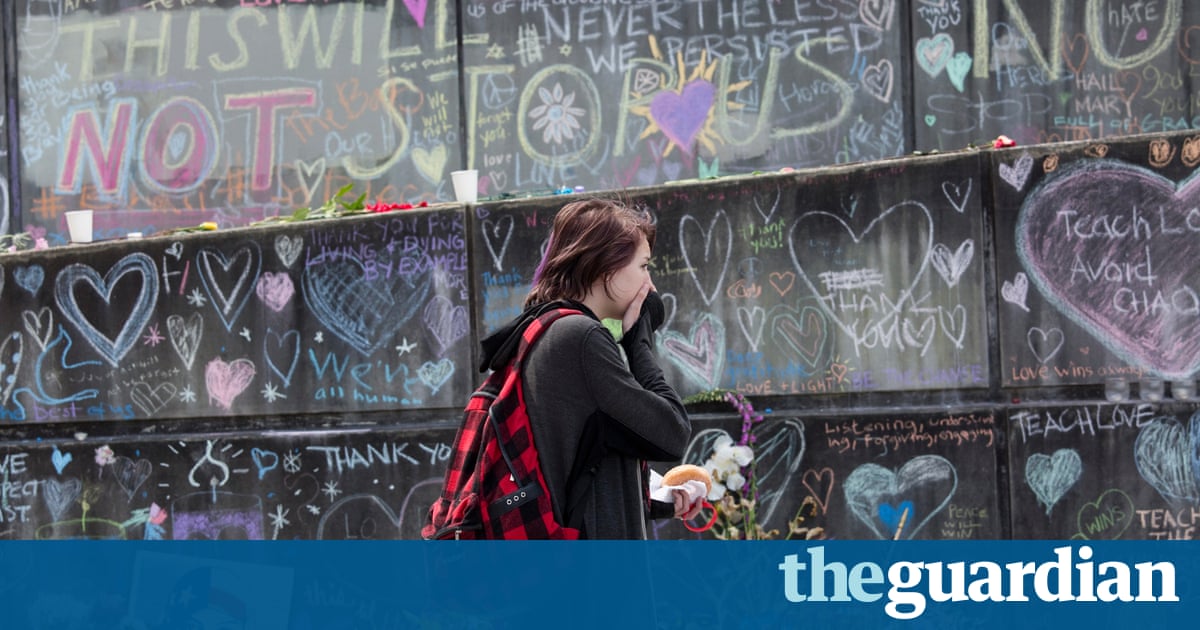 Members of the Oath Keepers militia will attend an alt-right-hosted free speech rally in Portland, Oregon, on Sunday, according to the groups commander. The rally is due to take place little more than a week after the deaths of two men who came to the aid of women being subject to ethnic insult on a train in the city.
The man charged in the knives, which killed Taliesin Myrddin Namkai-Meche, 23, and Rick Best, 53, and left 21 -year-old student Micah David-Cole Fletcher injured, is Jeremy Christian, 35. He was found to have posted white supremacist rhetoric online and to have attended an alt-right rally in the town in April.
In a climate of heightened tension in Portland, and as mayor Ted Wheeler been calling for federal authorities to follow him in withholding permits for the rally, the chair of the citys Republican party last week told the Guardian he was considering contacting groups like the Oath Keepers to provide security for party events.
Speaking on Saturday on his direction to Oregon from his house in Montana, Oath Keepers commander Stewart Rhodes announced: Were going to protect free speech, the exact same thing we have been doing at the last seven occurrences weve been to over the past few months.
The Guardian contacted Rhodes about a Reddit post that claimed to procreate the text of an email he sent to Oath Keeper members, advertising a Friday webinar that would discuss the Portland rally, a scheduled anti-sharia rally in Seattle next week, and why we need to be at such occurrences to shield free speech in its fight against terrorism.
That was not for public employ, Rhodes announced. Some asshole posted that. But he proved the contents of the email: Of track I said that, why not.
Asked if he had been in touch with organizers of the Portland rally, Rhodes responded: Of track. And also the Portland police, DHS[ Department of Homeland Security ], and everyone else, as always.
The posted text of the email speak: The Portland PD PIO[ Public Information Office ], and also DHS let us know that the feds wont allow any weaponsin the park, even for our cops. That sucks, but we will have to deal with it. And the park includes the sidewalk in front of it.
The rally is due to take place in Schrunk Plaza, an area in downtown Portland with room for public performances and meetings.
The email persisted: The Portland PD PIO[ Public Information Office] also said that outside the park our retired cops can carry disguised under LEOSA[ Law Enforcement Officers Safety Act ], and people with a valid OR disguised carry can carry outside the park.
PIO spokesman Sgt Peter Simpson said he was unaware of any discussion the Oath Keepers would have had with the police dresser.
Asked about the information Rhodes said he had been given, and whether it accurately reflected the lawfulness of disguised carry in downtown Portland, Simpson announced: I have never spoken with one of the following options people. It is suggested that he is taking information I provided in interviews and growing it into a conversation.
They did not speak with a Portland PIO. The law does not allow for grease-guns in the federal park and city code does not allow for grease-guns in parks unless there is a disguised handgun permit.
The email posted to Reddit also said Rhodes had been in contact with Multnomah County Republican party chairman James Buchal, who last week told the Guardian he was considering utilizing groups such as the Oath Keepers and Three Percenters as security for public occurrences.
Rhodes announced: I considered the Guardian article and I called him up to talk to him and let him know wed be happy to do that and marriage do it free of charge. Wed be happy to do that.
Asked if Buchal had accepted, Rhodes announced: He thanked me. And we talked for a while about how stupid it was for the leftist press to be freaking out since we are offered to protect them. I mean, thats what we do.
Buchal told the Guardian he returned Mr Rhodes call, thanked him for his offer of assistance, and the issues remains under consideration. It is not in the nature of a registered political party, even a county sub-unit of one, to make decisions speedily.
He added that he remained baffled by the accusations of racism against its organisation and listed a series of the Oath Keepers bylaws, including information disallow anyone who advocates discrimination, violence, or hatred toward any person based upon their race, nationality, credo, or coloring.
Read more: http :// www.theguardian.com/ us