NYPD Calls Unreasonable Use Of Force 'Irresponsible' After Trump's Speech
|
In a statement emailed to HuffPost, the NYPD called suggestions for police officers to use alternate criteria for use of force "irresponsible" and "unprofessional."
"The NYPD's training and policies relating to the use of force just allow for measures that are reasonable and necessary under any conditions, including the arrest and transport of prisoners," a spokesman for NYPD said.
"To indicate that police officials employ any standard in using force other than what is reasonable and necessary is irresponsible, unprofessional and sends the wrong message to law enforcement in addition to the public."
While speaking about theadministration'sefforts to take on international gangs to law enforcement officers in the Suffolk County Community College in Long Island, New York, Trump joked that officers should be more demanding with suspects and suggested letting them hit their heads on police cars.
"When you find these thugs being thrown into the back of a paddy wagon, you merely see them thrown in, rough, and I said, 'Please do not be overly nice,"' Trump said.
"Just like when you men put someone in the vehicle and you are protecting their mind, you know, how that you put their hands over, for example, do not hit their mind and they have only killed somebody," he added. "Don't hit their mind, I said, 'You can take the hands away, OK? "'
His remarks elicited cheers from the audience of law enforcement, which comprised neighborhood lawmakers, officials in the Suffolk County Police Department, the Nassau County Police Department acting police commissioner Patrick Ryder, Suffolk County Sheriff Vincent DeMarco and deputies and prison guards from the Suffolk County Sheriff's office, according to Newsday reporter Nicole Fuller.
A NYPD spokesman told HuffPost that no one in their department attended Trump's speech on Friday.
HuffPost achieved to the White House to get additional clarification on who had been invited and who attended the speech.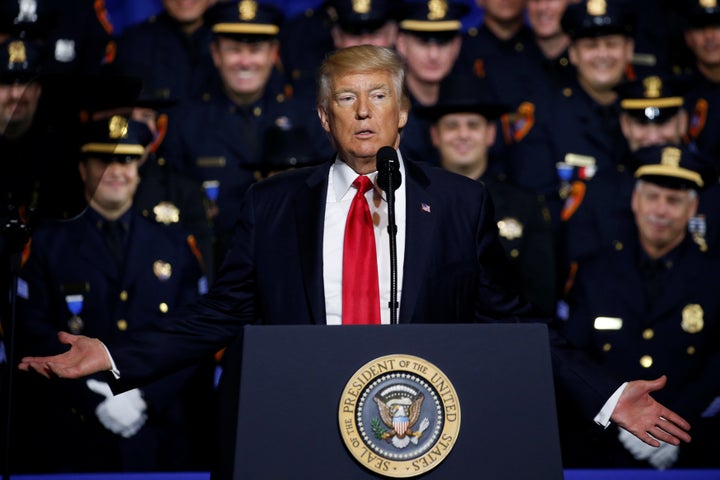 NYPD joins an increasing number of law enforcement agencies, officers and associations that have denounced the president's remarks on Friday, such as the Suffolk County Police Department, which allegedlyhad over 100 officers who attended Trump's speech.
Phillip Atiba Goff, the creator of the New York-based Center for Policing Equity, said in a statement issued Friday evening that Trump's speech was "dangerous," dehumanizing and "suggested a disrespect for the rule of law." Goff also said that he has spoken to police chiefs and officers who are "disgusted" by "the president's statements — and the applause" it received.
"Unchecked police force is not tough. It is not 'manly' and it doesn't reduce crime," Goff said in the announcement emailed to HuffPost. "What it will accomplish is to make crime victims less inclined to call 911 for help because they fear how police will treat them."
Goff added that Trump's Friday remarks were dangerous since it might make even bystanders less likely to report violent crimes such as fear of violent treatment from police. Goff also said that excessive force could undermine other officers.
"Punitive force by any member of law enforcement is potentially a precursor to violence against another officer encountering that person," Goff said. "Excessive pressure dehumanizes all involved, both police and public."
Very similar to NYPD's announcement, the International Association of Police Chiefs on Friday defended strict usage of force policiesthat require officers to educate all individuals "with dignity and respect," calling it "the bedrock principle" behind police legitimacy.
The Suffolk County Police Department in New York along with the Gainesville Police Department additionally tweeted in reaction to Trump's speech on Friday. Suffolk County police said their division won't tolerate "roughing from prisoners," while the Gainesville authorities resisted Trump's speech which they said "endorsed and condoned police brutality."
Read more: http://www.huffingtonpost.com/