The long read: The countrys military rulers claim to have embraced democracy and will soon transfer formal power to the party led by Aung San Suu Kyi. But an unsolved double murder may suggest the Burmese army is not yet ready to surrender control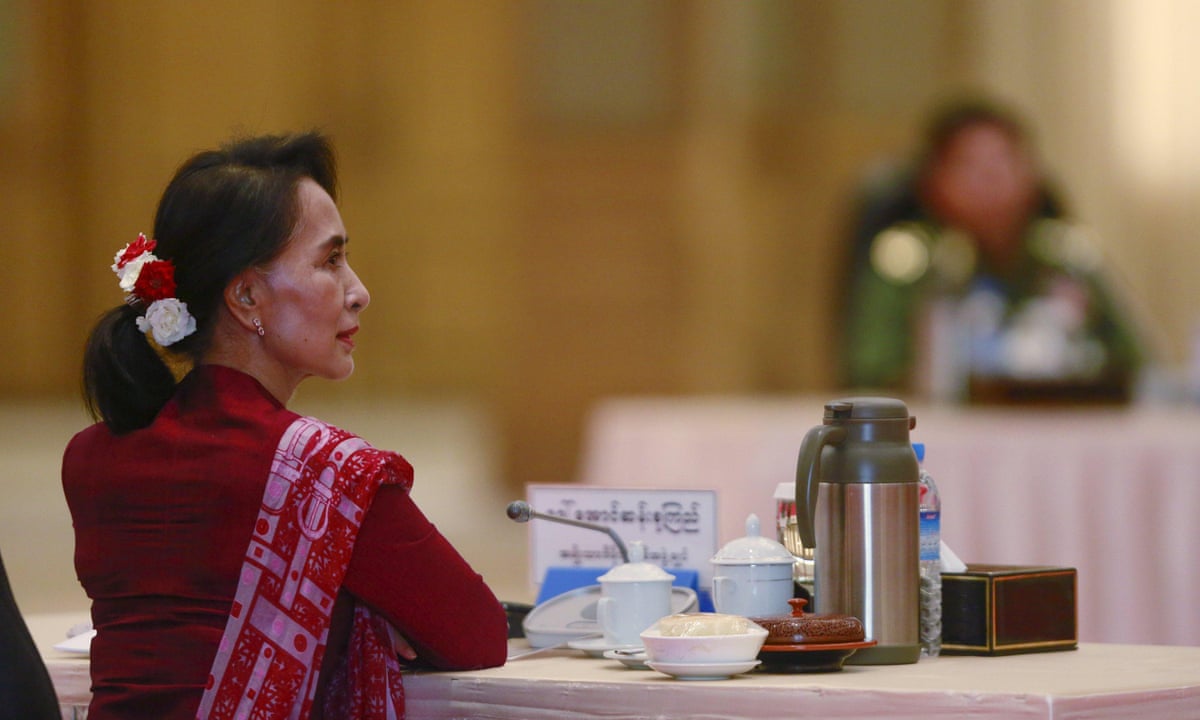 There is an old video clip that is famous in Myanmar. It shows a comedian on stage gesticulating with effervescent energy as his straight man challenges him to dance in different styles: first, Indian; then, Chinese; and then in the style of Myanmars hated military regime, the State Law and Order Restoration Council. Suddenly, the comedian is all slippery slime, his hands reaching out to steal, picking imaginary pockets, grasping and grabbing and smirking at his own greed.
The camera cuts to the audience, beaming with delight, and then to a woman with long black hair who rocks forward in her seat laughing, politely raising her fingers to cover her mouth. In spite of the passing of 20 years since that video was shot in January 1996, the face is immediately recognisable. It is Aung San Suu Kyi, the leader of the countrys democracy movement, at whose house the comedy show took place.
For daring to make a laughing stock of the military elite (and for giving succour to Aung San Suu Kyi), that comedian was arrested at dawn four days later by officers of the military intelligence agency, the DDSI, run by the notorious general Khin Nyunt. So too were his straight man, two dancers and four musicians who had shared the stage with him. They spent two weeks under interrogation being forced to stand all night without sleep, then to squat in painful stress positions and then to face endless questions under a bright light, with an officer standing behind them slapping their ears whenever they failed to deliver the required reply.
The comedian was Par Par Lay, one of the few Burmese whose name became known outside his isolated country. He was the founder and leading light of a trio of vaudeville comedians the Moustache Brothers who had been playing regularly for tiny audiences that often consisted only of foreigners, particularly young backpackers, who spread the word about them, with a special boost from the Lonely Planet guide. On a makeshift stage in the garage at the front of their house in Mandalay, Par Par, his cousin Lu Zaw (the straight man who was arrested with him) and his younger brother Lu Maw relentlessly challenged the power of the ruling generals simply by making people laugh at them, often attracting police warnings, never going quiet.
The Moustache Brothers used to boast that they could deliver 300 jokes in two hours. There was the one about the man who goes to the doctor with a terrible headache. He turns out to be a military intelligence officer. Ah, that explains it, says the doctor. You have no brain. Or the one about the Burmese man who travels abroad to get his bad teeth treated. The foreign dentist asks him: Dont you have dentists in your country? Of course we do. But were not allowed to open our mouths. As George Orwell said: Every joke is a tiny revolution.
The other reason for Par Pars fame was that following their arrest in January 1996, while the musicians and dancers were released, he and his cousin were sentenced to seven years hard labour for their jokey dancing. When their case was taken up by Amnesty International, with two million signatures on a petition organised by the Body Shop, the two Moustache Brothers became an international symbol for the thousands of men and women who were incarcerated by a dictatorship that was typical among tyrannies for its corruption and cruelty but outstanding for its pompous self-regard. After more than five years in the generals jails, they were released, in July 2001.
Par Par died in 2013, aged 66, from kidney failure, possibly as a result of his treatment in jail. But his cousin and his younger brother, Lu Maw, are still alive and still performing in the garage in Mandalay. In machine-gun bursts of self-taught English, Lu Maw recalled the prison life to which Par Par and his cousin were subjected: the days spent breaking stones with their ankles clamped apart with a metal bar; their nights on a mat on the ground; their bodies succumbing to malnutrition, malaria, dysentery, scabies; infractions punished by being forced to crawl like a crocodile across a plateau of jagged stones whose razor edges shredded the skin that touched them. Par Pars wife, Ma Win Ma, would travel four days by train for a 15-minute visit through a tight wire mesh, sometimes only to be met by the news that her visit had been cancelled. This very cruel, as Lu Maw succinctly put it.
Now Lu Maw and all those who fought or hated the junta find themselves in a world in which Aung San Suu Kyis National League for Democracy won a thumping majority in national elections last November, and the generals are apparently ready to cede power. Lu Maw does not trust them. He looks at the current president, Thein Sein, who claims to back democracy, and notes that he is a general who now wears a civilian suit, and says: Snake can shed skin. Is still snake.
His suspicion has deep roots. In 1962, when the military seized power, they created a machinery of surveillance, designed to suppress not only people, but even ideas that challenged them. In the name of restoring stability, the junta banned all rival parties and all trade unions and took total control of the police and the courts, routinely using the notorious Section Five of the Emergency Provisions Act, a law so vaguely worded that it was known as the Dont Like the Look of You law, because that was all it took to jail a person. The two Moustache Brothers were among some 10,000 men and women who were sent to the generals gulag. Some of them were tortured and crammed into tiny kennel-like cages. Aung San Suu Kyi was famously held under house arrest for years. From time to time, with extraordinary bravery, opponents would take to the streets. And soldiers would shoot them down thousands of them.
Attacking the freedom to speak or even to think, Khin Nyunts military intelligence had informers in every neighbourhood. There are countless stories of citizens seized for an off-colour remark or even a reference to democracy. Every household had to submit a family list of all who lived there and to report any visitors, so that everybodys movements could be tracked. There were no religious rites nor public meetings without official permission. Not even a Buddhist monk could be ordained without official blessing. The Department of Press Registration and Scrutiny filleted every word that was published or broadcast. The Committee for Propaganda and Agitation pumped out official messages.
And all the while, the people became poorer. At worst, they were commandeered at gunpoint as slave labour to build new roads and bridges. At best, they worked for wages so meagre that they found their GDP per head eventually falling below that of their war-torn neighbours in Cambodia or Laos. Meanwhile, the generals became richer, creating two military holding companies that exploited lucrative monopolies in car imports and petrol, beer and whisky, cigarettes and edible oils. At every level, the military hierarchy rented out its power, demanding official consents for every conceivable activity and then charging fees to grant them. While their people still live in bamboo huts, the generals enjoy splendid detached mansions in the Golden Valley area of Yangon. When the daughter of one of the dictators, Than Shwe, got married in 2006, a leaked video revealed her wearing rows of diamonds wrapped around her neck like a shawl.
Now, we are told, all this has changed. In Yangon, there are diplomats and foreign corporate advisers who say that the generals no longer want to run the country, that they produced a new constitution in 2008 because they genuinely want to move to a democratic system, that the quasi-civilian government they have been running since March 2011 has made significant changes and that from next month, they will allow Aung San Suu Kyis NLD to exercise real political power. Against them, there are exile groups and NGOs who agree with Lu Maw, who say these generals are merely conjuring up the appearance of democracy in order to persuade the west to lift its sanctions and send in its investors, while all the time they still control the most important levers of power, beckoning westwards with one hand while still throttling dissent with the other. At heart the question is whether a ruthless and wealthy elite really would abandon its own power.
The beginnings of an answer emerge in a small village in the remote mountains of eastern Myanmar. Here, one night in January 2015, there was an incident that was to become notorious in this country.
***
The old lady remembers that night very well. Sitting in the sunshine outside the village church, huddled down in a plastic chair, Hkawn Mai whispers first that she is worried about speaking, but then she talks quietly and quickly about how she went to bed as usual that evening and read her bible for a while before falling asleep, and then how she was woken an hour or two later by her house guest, Myo Tin, whispering to her: Did you hear somebody screaming?
She recalls that together they listened for a while to the silence, and then they both heard a terrible cry: it sounded like the last gasp of somebody dying, she says. It was some time between 11 oclock and midnight, she thinks, and they decided they must go out into the darkness to see what was happening. Myo Tins wife the old ladys niece had heard the same sounds and she came with them.
The village of Kawng Kha, which sits in the countryside in Northern Shan state close to the Chinese border, is only small – fewer than 30 little bamboo houses, most of them clustered on the lower flank of a hill that slopes from a country road down through banana plants and jackfruit trees to a dusty square where sometimes the men play ball games. There is crude bare-wire electricity in the houses, but there are no street lights, and the old lady says they were nervous as they went out that night, she with a flashlight, the three of them padding down into the square, past the stone memorial to the founders of the village, past the little house on their right where two teachers were living, down to the church at the far end of the square where they flashed their light and saw nothing.
They turned back to the teachers house, where she and Myo Tin took it in turns to knock gently, she calling out Teachers, teachers and feeling frightened when her voice echoed weirdly off the mountain that looks down on the village. Whether through fear or good judgment, she says that they all decided maybe nothing was wrong, maybe the teachers were just sleeping deeply, that all they had heard was a child crying, so they went home to try to sleep.
Read more: www.theguardian.com