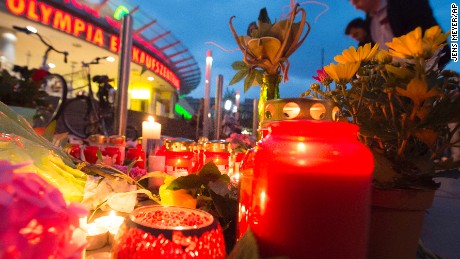 (CNN)The gunman who killed nine people in a rampage in Munich on Friday was obsessed with mass shootings and appeared to have planned the attack for a year, officials said.
"He appears to have planned this act since last summer," Robert Heimberger, president of the Bavarian state criminal police office, said at a press conference Sunday.
"He completely occupied himself with this act of rampage."
The rampage also left 35 people injured, 10 of them seriously, officials said.
The shooter used a fake Facebook account to lure people to the McDonald's by offering free food, police said Sunday. Earlier, they said he may have hacked another person's account, but they clarified on Sunday that it was an entirely fake account set up in another person's name.
Police are investigating whether the attacker's friend who was arrested was aware of the Facebook post or if he had prior knowledge of the attack and failed to notify police. The 16-year-old was interviewed based on his relationship with the suspect and gave conflicting statements, Munich police said.
Heimberger said the attacker appeared to have illegally purchased the pistol used — a 9 mm Glock 17 — through the "dark web," a shadowy part of the Internet that is not discoverable by standard search engines and is used for anonymous, illicit transactions.
Police believed it was an older weapon that had been reassembled, and were still working to establish where the attacker had obtained the 300 rounds of ammunition found in his rucksack.
Victims mostly teenagers
Most of the victims in Munich in their teens: Three victims were 14 years old, two were 15, one was 17 and one was 19. A 20-year-old and a 45-year-old were also killed.
The victims were all German nationals from the Munich area, officials said. Turkey's Foreign Ministry said three of the victims were also Turkish nationals.
Another of the victims was also a Greek citizen, Greece's Foreign Ministry said Saturday.
The shooting shook Europe after a spate of recent terror attacks on the continent, including the stabbing of passengers on a German train by a man who claimed to be inspired by ISIS and the killing of 84 people in a truck attack in Nice, France.
Read more: www.cnn.com