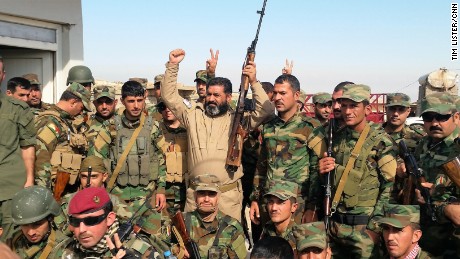 (CNN)Kurdish forces liberated the northern Iraqi town of Sinjar from ISIS on Friday after just a two-day offensive, a Kurdish leader said, reversing the terror group's takeover of a community where thousands were massacred and tens of thousands were forced to flee 15 months ago.
The Peshmerga — the Iraqi Kurdish military force — unfurled an enormous Kurdish flag over silos in Sinjar in a symbol of conquest, just the latest territory that Kurds have captured from ISIS in areas near the region they inhabit in Iraq, backed by air power from a U.S.-led coalition.
"Sinjar has been liberated by the Peshmerga," said Masoud Barzani, leader of Iraq's Kurdish autonomous region, as he stood in front of reporters on a plateau overlooking Sinjar on Friday afternoon.
Pockets of resistance remained, according to CNN senior international correspondent Nick Paton Walsh, who walked in the town with the Peshmerga in the afternoon. A bullet, apparently fired toward the Peshmerga, whizzed past the group at one point, prompting the Kurds to return fire.
Read more: edition.cnn.com