Jason Day's US PGA title defence at Baltusrol disrupted by hospital drama
The world No1s preparations were disrupted after his wife was struck down by an allergic reaction and he admitted: I havent seen the course Im not coming into this week expecting a lot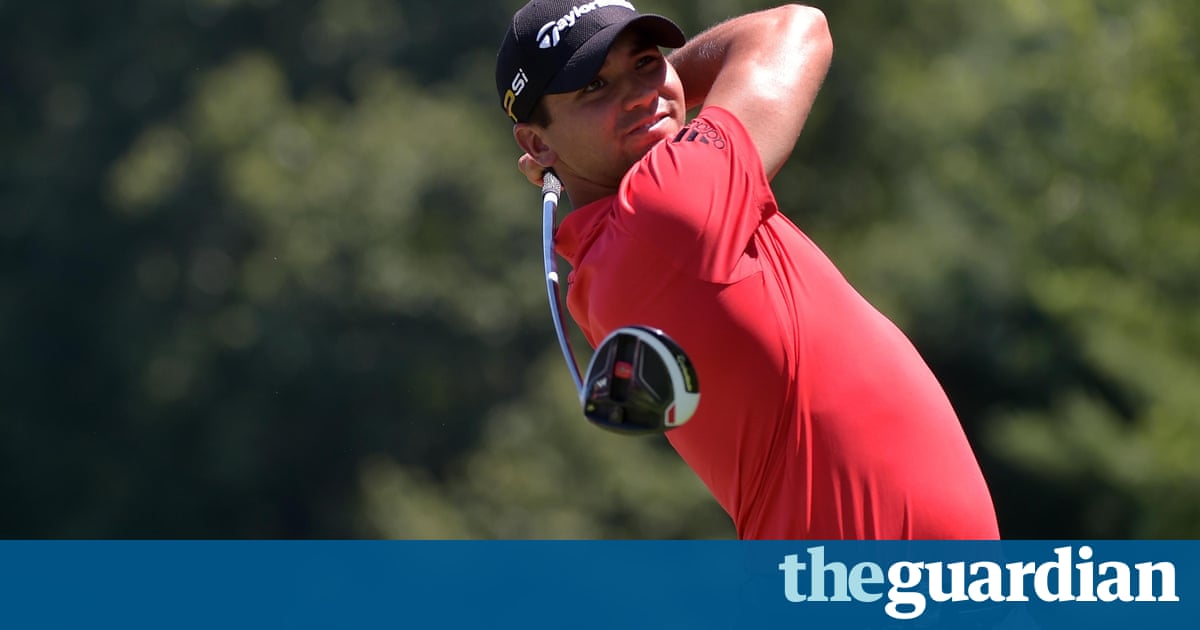 Should he successfully defend the US PGA Championship, Jason Day will not so much have raised questions about the concept of ideal preparation as completely trashed it. Day has a curious habit of arriving at majors when suffering from various ailments. This time, it was not the world No1 himself who encountered pre-tournament problems. Day left an accident and emergency ward in New Jersey at 2am on Wednesday, his wife Ellie having suffered a violent allergic reaction the cause of which is unknown resulting in a full body rash.
Im kind of running on empty right now, said Day. Shes fine. Everything was great but I had to call the paramedics over. Ellie was kind of freaking out in the back of the bus [Days motorhome] which is understandable because she got all red. Ive been in that situation before when I first ate seafood. Thats why I dont eat seafood any more, I started swelling up.
So I was kind of calm about it but she was freaking out in the back on the bus. Shes fine now. We got a little bit of loss of sleep but were fine.
It should be noted that the golfer, who won his first major at Whistling Straits last August, was taken aback by questions relating to this, rather than having offered it up as some form of pre-Baltusrol excuse. This was not raconteur material; Day was apparently reluctant to speak about the matter. There is more. Days first look at the venue for the final major of the year was on Wednesday, when he played 18 holes of practice. This does not exactly register as standard buildup for a player of the Australians standing.
I havent seen the course, I dont know what it looks like, said Day on Wednesday morning. I was with Doug Steffen, the head pro here, last night at the champions dinner. I went through pretty much every hole with him for about 20, 30 minutes. Im going to try and touch them all today but obviously the preps been a little on the lighter side. I need to come in and try to get a good, solid 18 holes in today so I kind of know where Im going.
The reason behind Days approach is, of course, simple: scheduling. The 28-year-old has endured a more monotonous time than most, having played the Open and the Canadian Open in the fortnight leading up to the US PGA. How Day will relish an upcoming break. First, though, he wants to win his first major of 2016.
With the limited practice and limited prep that Ive had this week, Im not coming into this week expecting a lot, Day said. I mean, Im expecting to win but Im not really going: All right, you need to go out and force things straightaway. Ive got to really try and manage my patience out there, because I have very little patience right now. The biggest thing is to really manage my ego in a sense, to sometimes pull back or when I do feel comfortable be able to attack it, know that theres consequence and knowing exactly where I need to miss it.
Baltusrol could easily be overpowered. That lends itself to a Day, Dustin Johnson or Rory McIlroy victory. Big-hitting outsiders such as Gary Woodland are also not without a chance. History tells us Henrik Stenson deals in seriously hot streaks, meaning the Open champion has live prospects here.
Another quirk is the claiming of the last four majors by first-time winners. This should give the likes of Sergio Garca renewed hope. I understand how difficult it is to win every week, said the Spaniard. I always said it; it doesnt matter if its a major. It doesnt matter where it is. It doesnt matter if its in the US, in Asia, in Europe, in Africa. It is tough to win. Nowadays theres a level of play from guys thats so much higher than it used to be. So that is great for the game of golf.
Hopefully it will happen for me. If it doesnt happen, its not going to change my life. Im not going to go in a cave and stay there until I die because I didnt win a major or anything like that. Its not that serious.
Read more: www.theguardian.com