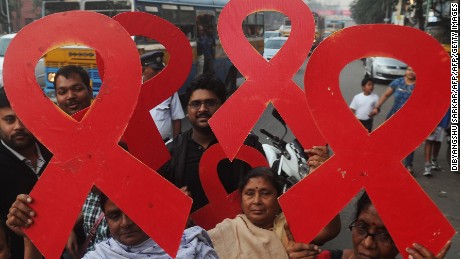 (CNN)There is new hope for potential transplant recipients living with HIV. Doctors at Johns Hopkins announced Wednesday they successfully performed the first liver transplant from an HIV-positive donor and the first U.S. kidney transplant from the same donor. The surgeries happened a couple of weeks ago.
The recipients, whose names will remain anonymous, are also HIV-positive. The patient who received the donated kidney has been living with HIV for more than 30 years, suffers from hypertension and autoimmune problems, and had been on dialysis. That patient had been on the organ donation waiting list for years, doctors said.
The person who received the liver suffered from hepatitis C and has been living with HIV for more than 25 years. The hepatitis C did significant damage to the patient's liver, and that patient had also waited on the donation list for years.
Both patients are now doing well. The kidney recipient is home already, and doctors expect to discharge the person who received the liver transplant in a few days.
Until 2013, Americans with HIV were ineligible to donate a lifesaving organ. People with
HIV
did receive organs from patients who were not infected, but doctors were throwing away viable organs because they came from someone infected with HIV.
The HIV Organ Policy Equality Act, or HOPE Act, changed all that. Doctors at Johns Hopkins had worked with agencies to encourage Congress to change the existing law. Once the act passed, it allowed the agencies that oversee organ donations to change the national policy.
Segev said that Johns Hopkins will teach the protocols that it used with this successful procedure to other transplant centers across the country. The team is also researching options for live organ donations.
The donor in this case was deceased. While her family preferred that she, too, remain anonymous, Johns Hopkins read a letter from her family saying that she always fought for the underdog and would have been happy to live on in "the souls of so many" who were able to survive because of her donated organs.
This is not the first time that Johns Hopkins has made history. In 2003, the hospital's Comprehensive Transplant Center performed what's thought to be the world's first
"domino" three-way kidney transplant
. In such a procedure, a donor willing to give a kidney to anyone who needs it causes a domino effect that makes more transplants possible.
"In this case, an altruistic donor's gift allowed three transplants to take place where none would have been possible and all three recipients received the most compatible kidney from someone they had never met," said Dr. Robert A. Montgomery, lead surgeon in the 2003 case.
Read more: www.cnn.com