Man believed to be shooter who killed nine people in Bavarian capital was filmed during angry exchange with witness on balcony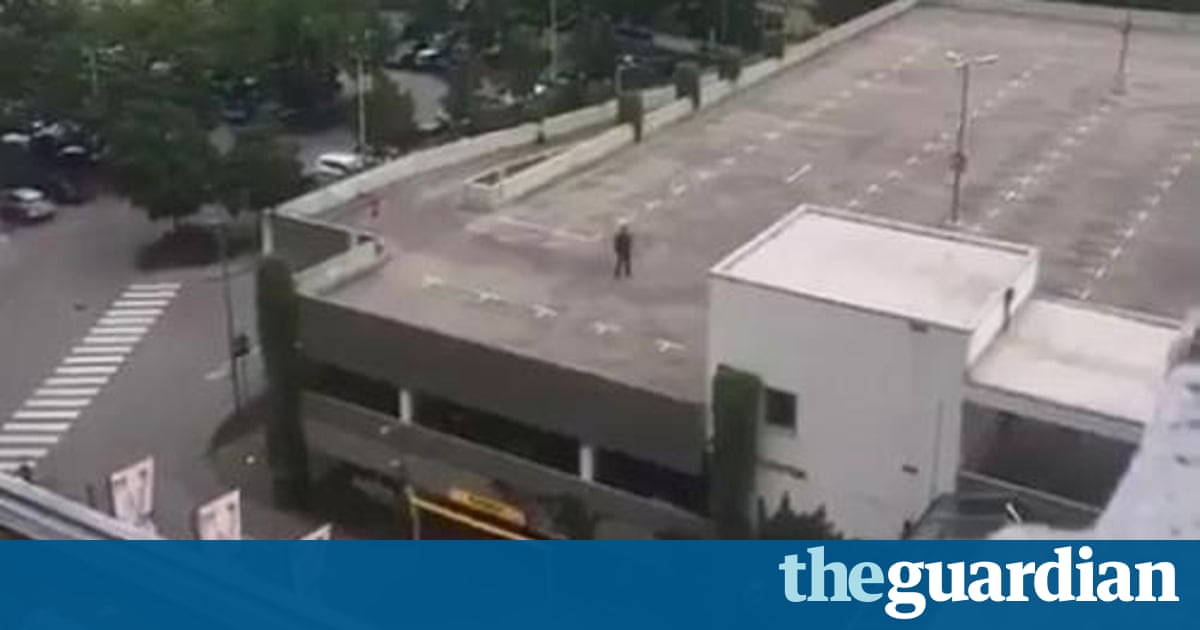 Video has emerged appearing to show the gunman who shot dead at least nine people in Munich involved a furious argument with a witness, shouting I am German! and complaining of being bullied.
The shooter, who was found dead with a self-inflicted gunshot wound, was identified by German police as an 18-year-old with dual German and Iranian nationality. He had no criminal record.
In the footage, which was posted on Twitter, an unseen man can be heard shouting abuse at another man, who is clad all in black and pacing on the top floor of an empty car park.
The man who filmed the clip can be heard telling other people with him that the man in the car park has a gun, to which the man purported to be shooter responds: Fucking Turks!
An English transcript of the exchange has been posted online, in which the unseen man reportedly shouts: He has loaded his gun. Get the cops here, to which the man presumed to be the shooter shouts back: I am German!
The tense exchange continued, with the unseen man, who was standing on the balcony of a building next to a car park, shouting back: Youre a asshole is what you are.
The shooter then demanded that the man stop filming the exchange. Instead, the man shouted back: A asshole is what you are, what the fuck are you doing? The shooter replied: Yeah what, I was born here, and said he grew up in Germany.
The man then started shooting, forcing the witness on the balcony to take cover; the video ends seconds later. The footage has not been publicly verified by the authorities but it is understood police are considering its contents in their investigation.
Police in Munich have said that the gunmans motive was completely unclear and would be the focus of their investigation.
A full transcript of the filmed exchange:
Man on the balcony: You fucking asshole you.
Alleged shooter: Because of you I was bullied for seven years
Man: You asshole you. Youre a asshole.
Shooter: And now I have to buy a gun to shoot you.
Man: A gun? Fuck off your head isnt on right.
Shooter and man on balcony shouting at each other, inaudible
Man apparently to people filming: Hes got a gun, here, the guy has one.
Unknown speaker: Shit/fucking Turks!
Man: Shit/fucking foreigners!
Man to someone else: Hes got a gun. He has loaded his gun. Get the cops here.
Shooter: I am German.
Man: Youre a asshole is what you are.
Shooter: Stop filming.
Man: A asshole is what you are, what the fuck are you doing?
Shooter: Yeah what, I was born here.
Man: Yeah and what the fuck you think youre doing?
Shooter: I grew up here in the Hartz 4 (unemployment benefits in Germany) area.
Man and shooter talk at same time, inaudible
Shooter: I havent done anything here for [inaudible].
Just shut your fucking face man
Man: You asshole you.
Man away from shooter: Hey, hes on the upper floor here, [inaudible]
Man goes into cover, shooter starts firing and man shouts something at him about shooting here
Shooter: Yeah, thats where youre right. Yeah youre right with that. Yeah youre right.
Read more: www.theguardian.com