The red carpet has been rolled, the tears shed and even the afterparties are coming to a close. So what lessons can we take from Hollywoods second most gilded evening?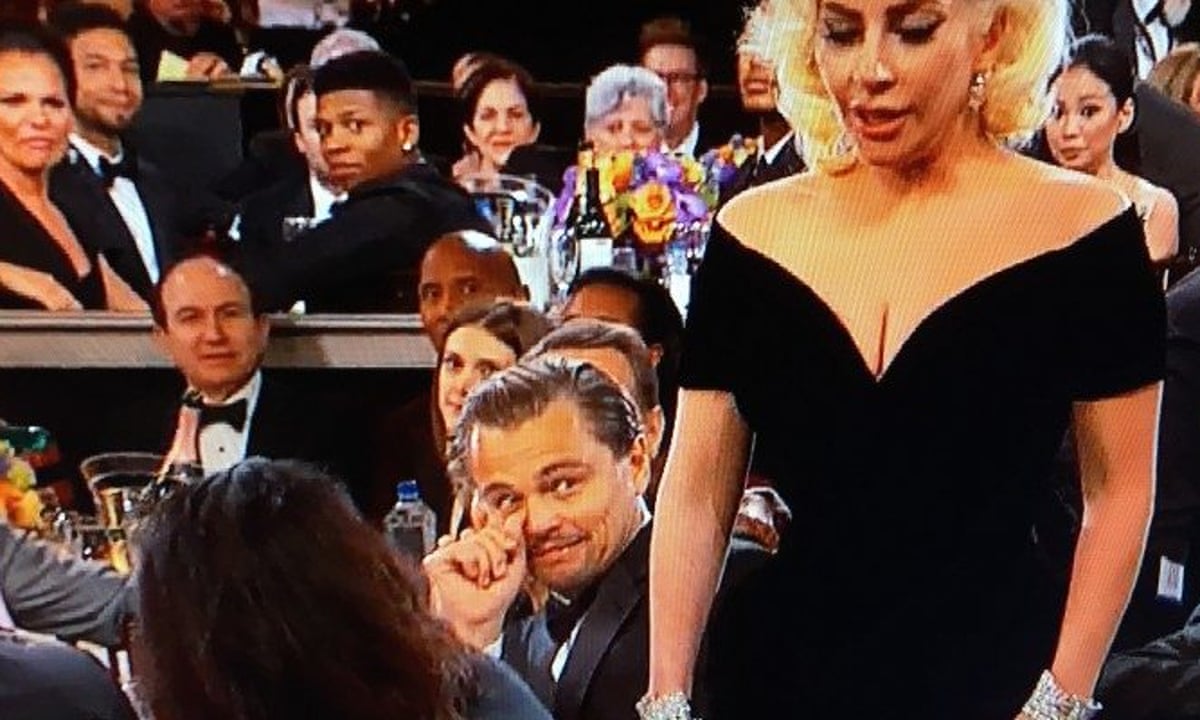 Leonardo DiCaprios face can break the internet twice, by itself
DiCaprio won the best actor prize for The Revenant, and won the inclusivity award by dedicating it to all the first nations people represented in this film and all the indigenous communities around the world. But he also won the evening outright with two beautifully expressive grimaces. The first came when Lady Gaga strutted past him to the stage. Some superb eyebrow work here.
The second later, explaining some sort of horror to fellow winner and former big screen squeeze, Kate Winslet.
If you cant be there, dont ask Quentin Tarantino to pick up your award

The Hateful Eight won for best score! Ennio Morricone couldnt be there, being 143. So the films director and, ahem, screenwriter took to the stage and messed it up twice. First he confidently declared that this was the composers first ever awards win in the US, just after the announcer (correctly) told us it was his third Golden Globe win (hes also bagged a few others). And then he said this:
But when I say favourite composer. I dont mean movie composer, thats ghetto. Im talking about Mozart. Im talking about Beethoven. Im talking about Schubert.
Tarantinos use of the word ghetto did not go down well in the room. And Jamie Foxx had just given him the award.
Kate Winslets shock isnt always mock
In Steve Jobs, Kate Winslet gives a performance of uncertain accent and wobbly focus. So when she says she was surprised to have beaten the likes of Jane Fonda, Jennifer Jason Leigh, Alicia Vikander and Helen Mirren to the supporting actress prize, for once, we believe her.
Others werent so convinced. Please leave the who me?! humblebrags to Taylor Swift, said Vulture.
Both supporting actor awards were actually unexpected: Stallone beating Paul Dano, Idris Elba, Mark Rylance and Michael Shannon could be seen as a triumph of rose-tinted nostalgia over clear-eyed criticism.
Jennifer Lawrence graduates from girl next door to mean girl
No awards ceremony is complete without at least one Buzzfeed-able piece of Jennifer Lawrence sass but while previous examples have only served to further endear the masses to her, the clumsy meme-maker made a spectacular misjudgment at the post-Globes press conference. The star, who won best actress in a musical or comedy for Joy, came off as a culturally insensitive mean girl after ticking off a foreign journalist for asking a question from his phone, referring to him as bro.
As many have commented, he was probably using it to ensure he spoke in the correct English. Her carefully cultivated Im just like you! persona, replete with references of drunken behaviour and on-stage pratfalls morphed into that of an A-lister using her power to embarrass a mere minion. Not cool, bro.
If youre facing death, alone, on a distant planet, its funny
The musical or comedy category has long been used, or rather abused, by studios trying to jimmy in their films that would otherwise risk a lack of nomination in the drama category (for example, 2013 saw Spike Jonzes heartbreaking, vaguely amusing at times, drama Her sneak in). This year there was some online brouhaha after sci-fi survival tale The Martian was counted in the category and after winning best picture and best actor for Matt Damon, yet more eyebrows have been raised. Remember that bit when he questioned his own mortality while stranded on Mars? LOL! Director Ridley Scott wouldnt address the category choice, Damon joked that it was a musical and with Jennifer Lawrence winning for Joy, a film which could also pass as drama, the wins left the years other actual comedies, from Trainwreck to Spy, empty-handed.
Blue is the hottest colour
The Globes are traditionally seen as a slightly drunker and more relaxed version of the Oscars and, this year, that looseness was felt more than ever with stars cursing their way through the rudest ceremony for years. NBC frantically used their time delay to ensure middle America remained in the dark but the swears were easy to decipher. Offenders included Amy Schumer (referring to her nickname as cunt), Ricky Gervais (asking Mel Gibson: What the fuck does sugartits even mean?) and Jonah Hill (making a Revenant bear joke, calling honey fucking delicious). This shit would never fly at the Oscars
Ricky Gervais was the host with the most underwhelming jokes
Following Tina Fey and Amy Poehler is an unenviable task, even when it involves nabbing a high profile gig like presenting the Golden Globes. It seemed like a slightly odd choice to bring back Ricky Gervais, given his relatively low profile of late and long list of offendees from previous hosting gigs. His opening monologue included jokes about pay equality, Caitlyn Jenner, Jeffrey Tambors balls and the general pointlessness of the Globes but it somehow felt less biting than Fey and Poehlers last year. Their likeable personas enabled the pair to sharply play with a wider set of stars but without pulling punches but somehow mitigating the offence. Gervais can however add Ben Affleck to the long list of stars who probably hate him after he joked that Matt Damon is the only person he hasnt been unfaithful to. Hes reportedly been asked back next year, where we hope Affleck wins best actor for Batman v Superman.
As a bonus, heres a photo of Gervais and Harrison Ford having fun at the afterparty.
Fantastic, Mr Fox
Universal had a cracking year at the box office last year, but its Fox who are cleaning up this awards season the studio own miracle mop biopic Joy (one award), The Revenant (four awards) and The Martian (two awards). The true mark of their success, though, was talent from rival movies pitching up to the party
Oscar frontrunners may go lame
There was no love last night for Carol (five nominations), The Big Short (four) and Spotlight (three). Instead, the big winners were The Martian (two wins comedy or musical, actor) and The Revenant (three film, drama, director). Few people think that Ridley Scotts Mars movie can make it at the Oscars, but the wholescale snubs for a trio of films considered sure things at the Academy Awards will mean sleepless nights for many.
#GoldenGlobesSoWhiteAndSoNotBothered
The stage was set for Sunday nights ceremony to address the controversy that threatened to overtake last years Oscars: the almost total lack of recognition for anyone who wasnt Caucasian. But it never happened. Stallone didnt even thank his black director and star when he won best supporting actor for Creed.
Even when Denzel Washington picked up the most prestigious prize of the lot: the Cecil B DeMille lifetime achievement award, he didnt mention it, just thanked three agents and said hed forgotten his glasses.
Any nod was limited to some on-point gags about people mistaking female Latina actors for each other, courtesy of (we think) America Ferrera and Eva Longoria.
Read more: www.theguardian.com