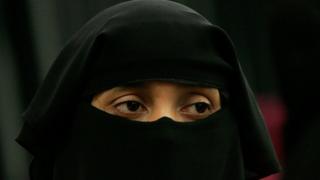 A pledge to ban the full-face veils worn by some Muslim wives is expected to be included in the UK Independence Party's general election manifesto.
Party commander Paul Nuttall will launch what he calls an "integration agenda" on Monday.
He will say wearing the burka and niqab in public is a barrier to social harmony, as well as a security peril.
He will also propose proscribing Sharia law – the religion governs that form part of Islamic tradition.
The party's manifesto is expected to suggest that anyone with evidence of female genital mutilation will be bound by law to advise police.