Off-duty officer Jason Falconer praised as hero after shooting suspect, as Isis claims credit for attack but officials say attackers motives not clear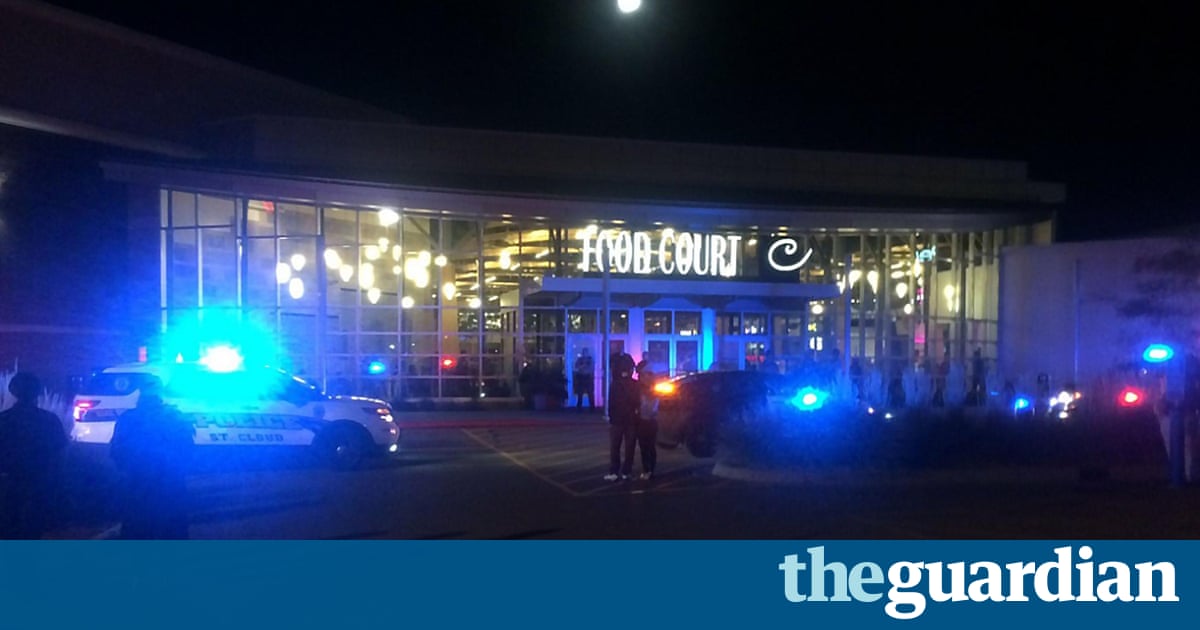 The FBI is investigating a mass stabbing in Minnesota as a potential act of terrorism, the special agent in charge said on Sunday, the day after a man walked into a shopping mall and injured nine people before being shot dead in a dramatic confrontation with an off-duty police officer.
The officer, Jason Falconer, was hailed as clearly a hero after confronting the suspect and shooting him repeatedly after he lunged with his knife.
Three people remained in hospital on Sunday, St Cloud mayor Dave Kleis told reporters, one of them with life-threatening injuries. Kleis did not identify the suspect or the victims, but said one more person had admitted themselves for treatment since Saturday night. The youngest victim was a 15-year-old girl and the oldest a 53-year-old man, he said.
We are currently investigating this as a potential act of terrorism, and I do say potential, FBI agent Richard Thornton said at a press conference.
Theres a lot we dont know. We dont know whether the subject was in contact with, had connections with, was inspired by a foreign terrorist investigation. Thats what the investigation is attempting to ascertain.
Earlier on Sunday, Islamic State claimed credit for the attack, calling the assailant a soldier of the Islamic State after reports the suspect had spoken about Allah while carrying out the stabbings. Authorities in St Cloud noted that they did not yet have evidence about the attackers motives. Isis has claimed other attacks by people without links to the group.
Police have not named the suspect, but Ahmed Adan, a Somali American, told the Minneapolis Star Tribune that the attacker was his son, 22-year-old Dahir Adan. The elder Adan said that his son was born in Africa and had lived in the US for 15 years, and that police told him at about 9pm local time that his son had died at the mall.
St Cloud police chief William Blair Anderson said police had had three contacts with the man who attacked the mall, though all were over minor traffic infractions. Police and the FBI had impounded the mans car, he said, and executed a search warrant for his residence.
The suspect wore a private security uniform during his attack, the chief said, though it was not clear whether he was ever an employee of such a firm.
The attacker was stopped after a harrowing confrontation with Falconer that was caught on Macys surveillance footage and described by the mayor. The suspect entered the mall carrying a knife and began stabbing people, Kleis said. Falconer quickly confronted him.
From what witnesses say, he identified himself as a police officer, Kleis said.
Falconer asked the man to back down. You actually see him going down by command and then immediately lunging toward the officer, the mayor said, what may have been 20ft or beyond, covered in less than two seconds with a knife.
Falconer fired, and the man fell. He rose and lunged again. You see him fall and get back up, Kleis said, three times, and then even after that to the point where hes still attempting to get back up again when the officer made a fatal blow.
And then you see our officers, St Cloud PD, entering the scene at that moment.
About five minutes passed between the first 911 call and the moment the subject was eliminated, Anderson said, praising Falconer, whom Kleis said was clearly a hero.
This could have been a lot worse but for the swift response, Anderson said. Officer Falconers actions, again, were swift and direct and in my opinion appropriate.
Theres no imminent threat, he added, of the aftermath of the attack. Right now theres nothing that we have gleaned that would suggest to us that it is anything other than what it appears to be now.
Kleis said: What happened last night is what keeps me up at night. Praising his town and its law enforcements response, he added: This individual and this evil act, unjustifiable by any means, will not shake this community.
Read more: www.theguardian.com